T9500 SERIES T9515-44 15 INCH 1000W RMS DUAL 4 OHM SUPERWOOFER
Legendary Output
The Original 9500
Built for Boom
The Original Bass Monster
MTX Audio has single-handedly created the biggest boom in the history of bass - Thunder9500, the world's first SuperWoofer! Thunder9500 stretches the limits of SPL while still providing truly accurate music reproduction. In the simplest of terms, it's really loud and still sounds amazing.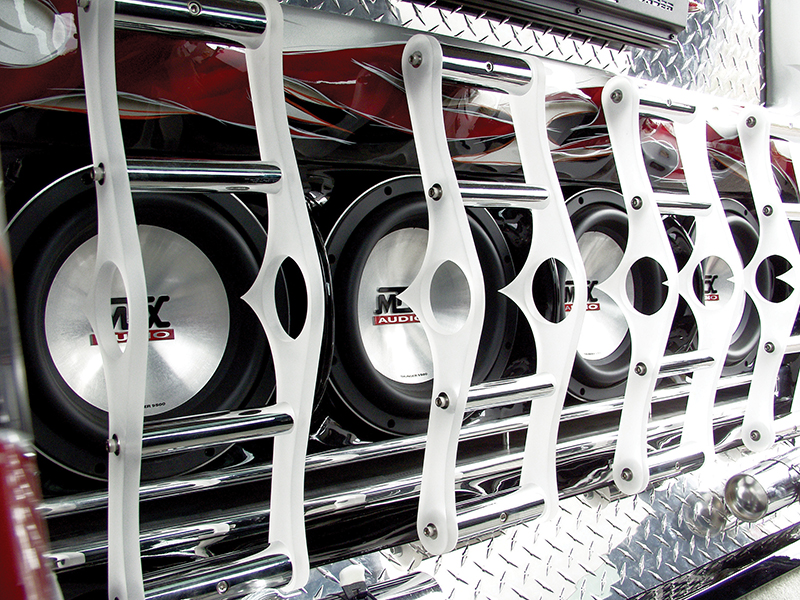 High Roll Rubber Surround
Increased Surface Diameter (Sd), Resulting in Greater Volume Displacement
Spider Plateau Venting
Mechanical Cooling Process Targeting the Voice Coil
Asymmetrical Linear Drive System
Controls Cone Movement Reducing Distortion
The Original 9500
The T9515-44 is the original and still the best for Earth shaking bass and hardcore SPL fun. This monster delivers old school SPL for rap, R&B, and any type of music that features low frequency.
Key Features
Die Cast Aluminum Frame Construction for incredible strength and durability
Up to 3000 Watts Max Power Handling for amazing SPL levels with astonishing clarity
Up to 1" Xmax for massive Volume Displacement
Up to 260 oz. magnets that deliver incredible power
High Roll NBR Surround uses FEA optimized roll geometry to maximize excursion without sacrificing cone surface area
Expanded Poly Cone Dust Cap is injection molded, carbon filled, expanded polypropylene with aluminum deposition for dramatically increased stiffness/weight ratio
Stitched Cone for added durability and style
ALDS Asymmetrical Linear Drive System with a flat progressive spider and extended pole piece for smooth, linear, piston like drive

Die Cast Aluminum Frame
Up to 1" Xmax for Maximum Volume Displacement
High Roll NBR Surround for Increased Surface Area
ALDS - Asymmetrical Linear Drive System
428 Degree High Temperature Flat Wound Aluminum Ribbon Wire
Spider Plateau Venting Cooling Technology

| | |
| --- | --- |
| RMS Power (Watts) | 1000 |
| Recommended Amp Power (RMS) | 500 - 1000 |
| Peak Power (Watts) | 2000 |
| Impedance | Dual 4Ω |
| Frequency Response | 24Hz - 150Hz |
| Sensitivity | 90.3 dB |
| Voice Coil | 4" |
| Magnet Weight | 260 oz. |
| Mounting Depth | 10.75" |
| Cut Out Diameter | 13.88" |
| Speaker Displacement | .24 cu ft |
| Volume Displacement (cu in) | 135.77 |
| Sealed Enclosure Net Volume | 1.5 cu ft |
| Vented Enclosure Net Volume | 2.25 cu ft |
MTX AUDIO T9500 SERIES T9515-44 15 INCH 1000W RMS DUAL 4 OHM SUPERWOOFER
Brand: MTX Audio
Product Code: T9500
Availability: In Stock
Tags: MTX Audio, Subwoofer, 9500 Series